Publications
Join us on these you-are-there photographic journeys.
Compelling images and insightful commentary.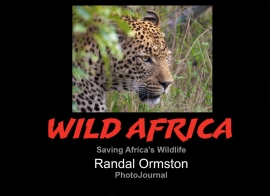 Wild Africa
This photojournal documents our encounters with Africa's wildlife over 20 years. Healthy protected critters and environments due solely to eco-tourism. This is a growing industry and the future of Africa's wildlife in these protected areas has the best potential to save them from extinction.

"A truly spectacular collection. Great photos depicting awesome journeys undertaken in Southern Africa; these photos capture the diversity of animals available for every traveler to see."
Niki Duncan, Senior Travel Consultant, Rhino Africa

"Randal documents the plight of African wildlife with hard-to-ignore facts that are visually supported by captivating photographs and anecdotes from his own two decades worth of adventures on the Mother Continent."
Claire Trickett, Group Editor, &Beyond
---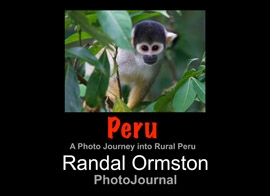 Peru
Our journey into rural Peru took us to many places where ancient languages and cultures are alive today. Language is culture. 25% of Peruvians speak as their first language Quechua, the language of the Incas or Aymara a culture with pre-Inca roots. For all of us, language shapes how we think and how we look at the world. The elements of the Inca cultures remain today and can be seen in how they use the land, their art, their buildings and tools, as well as their relationships and social structure. And Peru is one of the most biologically diverse countries from the glacial Andes to the coastal deserts to the densest rainforest in the Amazon.

"Randal's style of writing is inspiring and easy to read. The portrait pictures of its people combined with fun facts and daily activities in the Andes allows you to virtually explore the soul of Peru. Totally recommended"

Diego Zimmerman, Peruvian Soul, Founder



---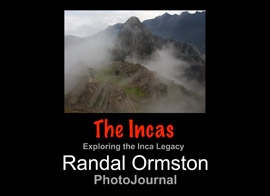 The Incas
Our explorations took us from iconic Machu Picchu to mountain-terraced agriculture and sophisticated irrigation canals, still in use today. The sophistication of a culture is measured by its advances in science, agriculture, architecture, engineering, social structure and art. What we refer to as the Inca Empire rivalled those in Europe, Africa and Asia. The Incas were not the creators of the great Andean civilization. They were its inheritors. Beginning 3 thousand years ago Peru had a succession of sophisticated cultures that culminated in the Inca. These diverse and often hostile cultures were united by the conquering Inca, under one social structure and language. They coordinated all the advances of science and engineering learned to date. They united the Andean cultures and empires into one civilization.
---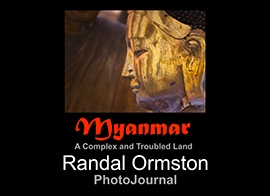 Myanmar
Our journey into Myanmar, once known as Burma, was often like stepping back a century in time. Trades that have disappeared in most of the world are a valued part of daily life, such as the wheelwright, the blacksmith and the weaver. While the quality of life in the rest of the world has advanced, in Myanmar it has only crept up. Official minimum wage is currently just over $3 per day. We were able to share a brief time with them and record moments of a culture on the edge of dramatic change.
---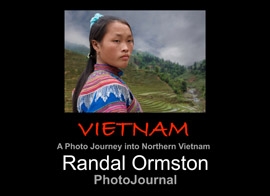 Vietnam
For 1,000 years this country has known invasion, occupation and war. Our journey took us across the north from Vietnam's mountain Hmong cultures to Ha Long Bay off the Gulf of Tonkin, to several rural villages and the frenetic Hanoi. 70% of the population was born after the war so it is a youthful country with youthful optimism.
---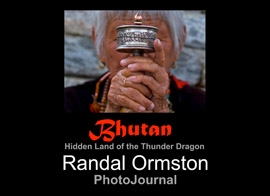 Bhutan
Journey into the hidden world of the Thunder Dragon and Gross National Happiness, where politics and religion are braided together. While it's cautiously making itself known to the outside world, this land of paradox with its collective psyche rooted firmly in the Middle Ages is peeking out at the modern world, our world, from behind a curtain of self-imposed isolation.

"Randal has posted some of the best shots to come out of the Himalayas.

This is an incredible book; you have documented Bhutan for the ages! I came away feeling that I had just gone on tour to Bhutan with you! (It) has been my sense for the past few years, (that) every good picture of Bhutan has already been taken and none of them can be improved upon. That was until I received your book. And the mini essays are so well written, pure literary art."

Robin Smillie, Rainbow Photo Tours.


---
Creating Positive Change
100%
All revenue from all VISTA Arts PhotoJournals
Support international projects for positive change for children. ---
Email
Photography@Vista-Arts.ca
Copyright © 2024 Randal Ormston. All Rights Reserved. All text, images and designs on this website and in all PhotoJournals are the intellectual property of the author and are protected by Canada, US and international copyright laws. No duplication or dissemination in part or in whole without the prior express written consent by the author is permitted